PRINT RECIPE PDF
A great burger is hard to beat – and these Kiwi burgers are definitely up there with the best of them!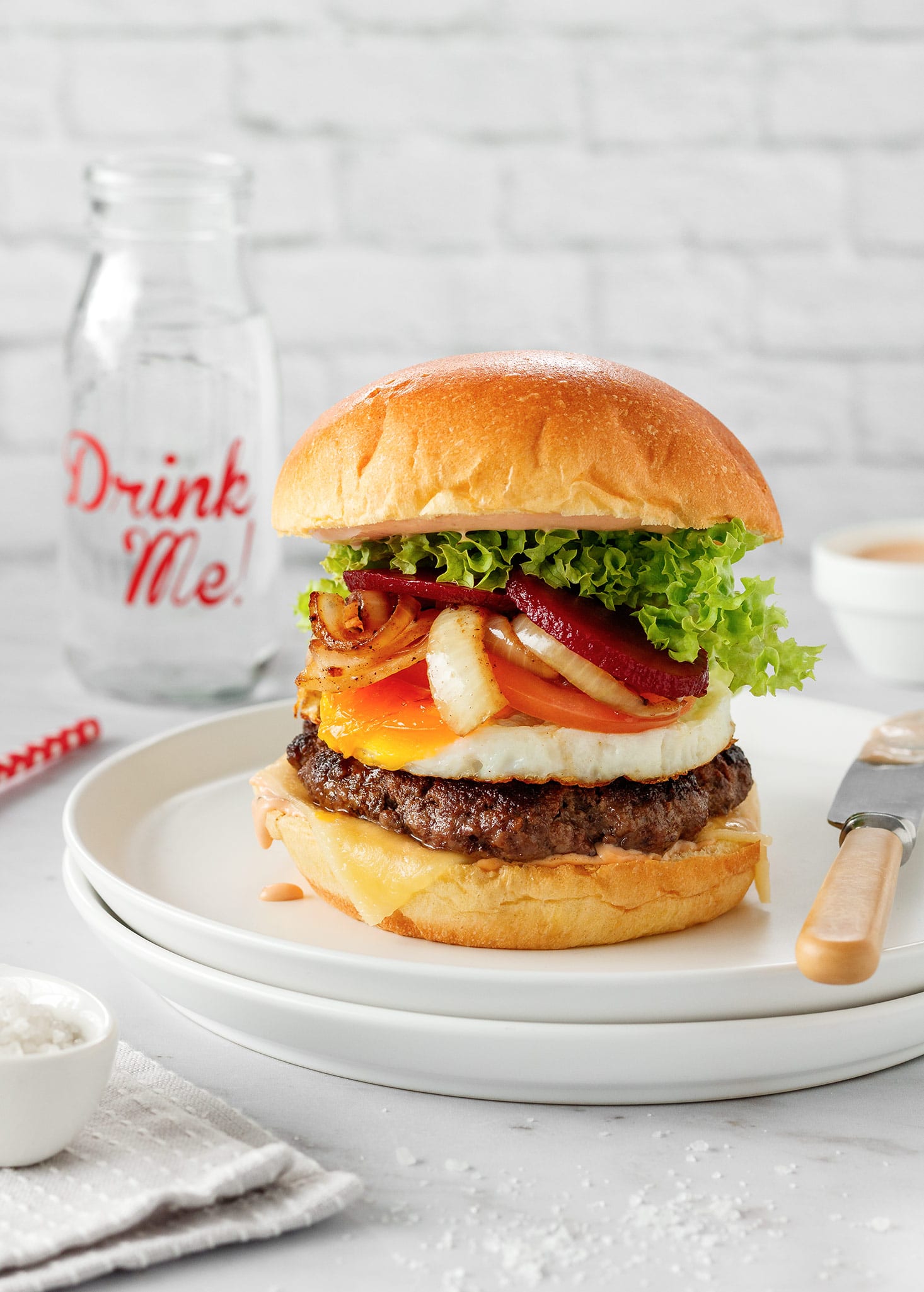 You'll find all the ingredients a good Kiwi burger should have:
Soft brioche burger bun – my favourite store-bought ones are these "French Brioche Burger Buns" sometimes available at Countdown (sold as a 4 pack).
Juicy beef patty with minimal added ingredients
Cheese – double it if you're feeling indulgent!
Crispy fried egg
Golden pan fried onions
Fresh salad – tomato, beetroot and lettuce
Moreish homemade burger sauce (on both the top and bottom!)
The burger alone is pretty filling, so I've left out the sides this time. Royce was horrified when I served up his burger without anything else though! "How can I eat a burger without fries", he said!
So please feel free to add some fries, wedges or even tater tots – I'm sure they won't go amiss. Extra salad is also a great option if you're looking for something a little healthier.
PRINT RECIPE PDF
KIWI BURGERS
A great burger is hard to beat - and these Kiwi burgers are definitely up there with the best of them! Filling enough on their own, or add some extra salad or fries on the side.
QUICK PRINT
BURGER PATTIES
500

g

prime beef mince

(1lb 2oz)

1

Tbsp

olive oil

1

Tbsp

Worcestershire sauce

1

tsp

garlic powder

1

tsp

salt

1/2

tsp

black pepper
BURGER SAUCE
1/4

cup

aioli

(60ml)

3

Tbsp

tomato sauce

1

tsp

Dijon mustard

1/2

tsp

garlic powder

1/4

tsp

Worcestershire sauce
PREPARE PATTIES

Place mince, oil, Worcestershire sauce, garlic powder, salt and pepper in a large bowl. Using your hands, gently mix until well combined. Divide into four pieces and shape into patties approximately 1cm / 0.4in thick. Use your thumb to press a dent into one side.

MAKE BURGER SAUCE

Whisk all sauce ingredients together in a small bowl and season to taste with salt and pepper.

PREPARE SERVING INGREDIENTS

Thinly slice onion and tomato.

MAKE BURGERS

Heat a large frying pan on medium-high. Add burger patties and cook for 4-5 minutes (don't press down on them). Flip and cook for a further 3-4 minutes, until cooked through. Transfer to a board, cover with foil and leave to rest.

Spray pan lightly with cooking oil spray and crack eggs into pan to fry, leaving a space to cook the onion - use egg rings to keep them nice and tidy if you like. Add onion. Cook eggs to your liking and onion until soft. Season with a little salt and pepper.

Cut burger buns in half and lightly toast. Spread each side with burger sauce. Top the bottom with a slice of cheese, burger patty, egg, tomato, onions, beetroot and lettuce. Add top half of the bun and microwave assembled burgers for 10-15 seconds (this step is optional, but helps to create a nice juicy, soft burger!).
WINE MATCH: A beer, or a Pinot Noir.
GLUTEN-FREE OPTION: Use gluten-free Worcestershire sauce, aioli and tomato sauce. Choose your favourite gluten-free burger buns.
INGREDIENT SWAPS / NOTES: You can use any type of cheese you like (i.e. cheddar, Colby, smoked, Swiss, havarti). For extra indulgence, use two slices per burger (place one on top of the patty and one underneath).
BULK IT UP: If you can't do a burger without fries, feel free to add a side of these (or wedges, kumara fries or tater tots!). For a healthier option, add some extra salad on the side.
STORING AND REHEATING: Burgers are best assembled fresh. Patties and onions can be cooked ahead and reheated in the microwave. Eggs could be cooked in the microwave too.
ALSO ON THE MENU